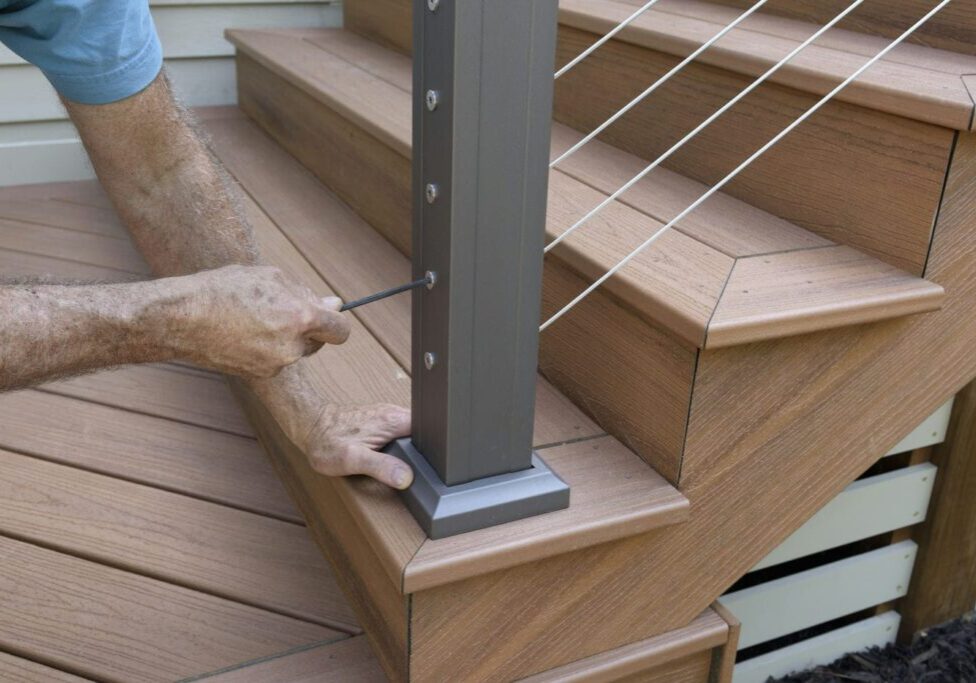 Choosing a reliable custom railings company is a crucial step in enhancing the aesthetic appeal and safety of your property. The right company will deliver high-quality railings that not only match your style but also stand the test of time. But, how do you ensure you choose the right company? Here are 15 key factors to consider when choosing a custom railings company.
Experience Counts
The number of years a company has been in the business often correlates with the quality of work they can deliver. A company with extensive experience has likely honed their skills over the years, tackled various design challenges, and gained in-depth knowledge about the industry's best practices. Look for a company with a solid history of manufacturing and installing custom railings.
The longevity of a company also speaks volumes about their reliability. Companies that have been around for a while are more likely to be around in the future, which is essential for warranty and after-sales service considerations. In essence, an experienced company gives you confidence in the durability and longevity of your railings.
Review Their Portfolio
One of the best ways to evaluate a company's capabilities is by looking at their portfolio. A comprehensive portfolio showcases the company's range of designs, their creativity, and their ability to deliver various styles. Check to see if their past projects align with your aesthetic preferences and quality expectations.
A well-curated portfolio should also highlight the company's ability to handle different types of properties and spaces. Whether it's a commercial building, a residential property, or outdoor landscapes, the company should have demonstrated experience in a variety of environments.
Customer Reviews and Testimonials
Reviews and testimonials provide insight into a company's work quality, customer service, and reliability. Look for reviews on various platforms, such as Google, Yelp, and the company's website, to get a balanced perspective. Pay attention to how the company responds to both positive and negative reviews.
It's crucial to read the reviews critically. Watch for patterns in the reviews rather than isolated complaints or praises. For instance, if several customers mention poor customer service or product quality, it could be a red flag.
Quality of Materials
The materials used in your railings significantly impact their durability, maintenance needs, and aesthetic appeal. A reliable company should be committed to using high-quality materials that can withstand wear and tear, weather conditions, and time.
Ask about the source of the materials, their grade, and their suitability for your particular environment and use. For instance, some materials may be more suited to outdoor use, while others work better indoors. Understanding these details can help you make a more informed decision.
Examine the Design Process
Custom railings are as much about aesthetics as they are about functionality. A reliable company should have a thorough design process that takes into account your style preferences, the architecture of your property, safety standards, and functionality requirements.
In addition, the design process should be collaborative. The company should be open to your ideas, provide suggestions, and ensure you're satisfied with the final design before moving to the manufacturing stage.
Installation Matters
Professional installation is key to the durability, safety, and aesthetic appeal of your railings. Look for a company that has a team of experienced installers who are knowledgeable about the best installation techniques.
The company should also demonstrate a commitment to safety during the installation process. This includes adhering to building codes and using appropriate tools and safety equipment.
Licensing and Insurance
Hiring a licensed and insured company is critical for your protection. Licensing indicates that the company meets the industry's standards and follows the regulations set by authorities. Insurance, on the other hand, protects you from potential liabilities in case of accidents or damage during the project.
Ask the company for their licensing and insurance details. You can often verify these details with the relevant authorities to ensure they're current and valid.
Warranty Offerings
A reliable company will stand behind their products and services by offering a comprehensive warranty. A warranty can give you peace of mind knowing that if anything goes wrong with your railings within the warranty period, the company will take care of it.
Ensure you understand the terms and conditions of the warranty, including what it covers, the duration, and any actions that might void it.
Price Considerations
While cost is an important factor, it should not be the sole determinant when choosing a railing company. A reliable company will provide a detailed and transparent quote that outlines all the costs associated with the project.
Remember, the cheapest quote may not necessarily offer the best value. Quality materials and workmanship may cost more initially, but they can save you money in the long run due to their durability and lower maintenance needs.
Customer Service
Exceptional customer service is a hallmark of a reliable company. The company should be responsive to your inquiries, patient in answering your questions, and respectful of your needs and preferences.
Pay attention to your interactions with the company from the start. A company that takes the time to understand your needs and address your concerns is more likely to deliver satisfactory results.
Industry Awards and Recognition
Awards and recognitions can be a testament to a company's commitment to excellence. They are usually given by industry bodies or reputable organizations, and they signify a company's standing in the industry.
While they should not be the sole basis of your decision, they can provide additional assurance about the company's reliability and quality of work.
Local vs. National Companies
Choosing a local custom railings company, like ours, comes with distinct advantages. Being local, we have an inherent understanding of the local building codes and climate conditions. This knowledge ensures our railing selections and installations are tailored to withstand your specific environmental conditions.
Moreover, our close proximity allows us to deliver prompt and easily accessible after-sales service, which greatly enhances your overall customer experience. With a local company, you get personalized attention, profound local knowledge, and the assurance that your unique needs and preferences are fully understood and catered to. Experience the benefits of choosing a local custom railings company for your project.
Adherence to Safety Standards
Railings play a crucial role in ensuring safety, so it's important to choose a company that adheres strictly to safety codes and standards. This includes the height and spacing of the railings, the strength and durability of materials, and the installation method.
The company should be knowledgeable about both local and national safety codes for railings and ensure their products and services are in compliance.
Realistic Timelines
A reliable company should provide a realistic timeline for your project. This shows that they respect your time and understand the need to minimize disruptions to your routine.
However, bear in mind that quality work takes time. A company that promises unusually quick turnaround times may be compromising on the quality or safety of the work.
Commitment to Continual Learning and Training
The railing industry, like most industries, continues to evolve. New materials, designs, and installation techniques are constantly being developed. A reliable company will be committed to continuous learning and training to stay up-to-date with these developments.
Ask the company about their training programs and how they stay informed about industry trends. This will give you an indication of their commitment to delivering the best possible products and services.
Why GTA Railings is Your Top Choice for Custom Railings in the Greater Toronto Area
In conclusion, when choosing a reliable custom railings company, there are numerous factors to weigh, from the company's experience and customer testimonials to their licensing status, material quality, and design approach. Each of these elements plays a vital role in ensuring you invest in railings that not only elevate the aesthetic appeal of your property, but also significantly enhance safety and deliver long-term value.
While the temptation to opt for the most affordable option can be considerable, it's essential to remember that quality, durability, and the potential to increase your property's value should not be compromised for immediate cost savings. The right choice is one that marries high-quality craftsmanship with competitive pricing.
In the Greater Toronto Area, one company that stands out in embodying these principles is GTA Railings. As a local company deeply ingrained in the GTA community, we offer a nuanced understanding of local building codes and climatic considerations. This understanding, paired with our commitment to excellence, enables us to design, manufacture, and install railings that are both aesthetically pleasing and enduringly robust.
At GTA Railings, we're not just in the business of installing railings—we're passionate about crafting installations that are an intrinsic part of your home or business space. Our seasoned team continually updates its skills and knowledge to stay at the forefront of industry trends. And it is this dedication to continuous learning and advancement that allows us to bring you the best products and services in the market.
In choosing GTA Railings, you're not just choosing a reliable custom railings company—you're selecting a partner dedicated to bringing your vision to life, a partner that stands by the quality of their work, today and for years to come.