Personalized Custom Mirrors to Accentuate Your Living Spaces
As experts in enhancing the beauty and functionality of your residential or commercial spaces, we are proud to offer our premier line of custom mirrors. Seamlessly blending design sophistication with practicality, our tailor-made mirrors serve as a perfect accent to any room, adding depth, brightness, and a unique personal touch.
With a wealth of experience in creating and installing railings, we apply the same meticulous attention to detail and commitment to quality to our custom mirrors. Each of our designs is crafted to complement your decor and reflect your aesthetic tastes. Whether you're looking for a stylish full-length mirror to add to your bedroom's charm or a modern bathroom mirror that perfectly matches your interiors, our solutions cater to a variety of needs and styles.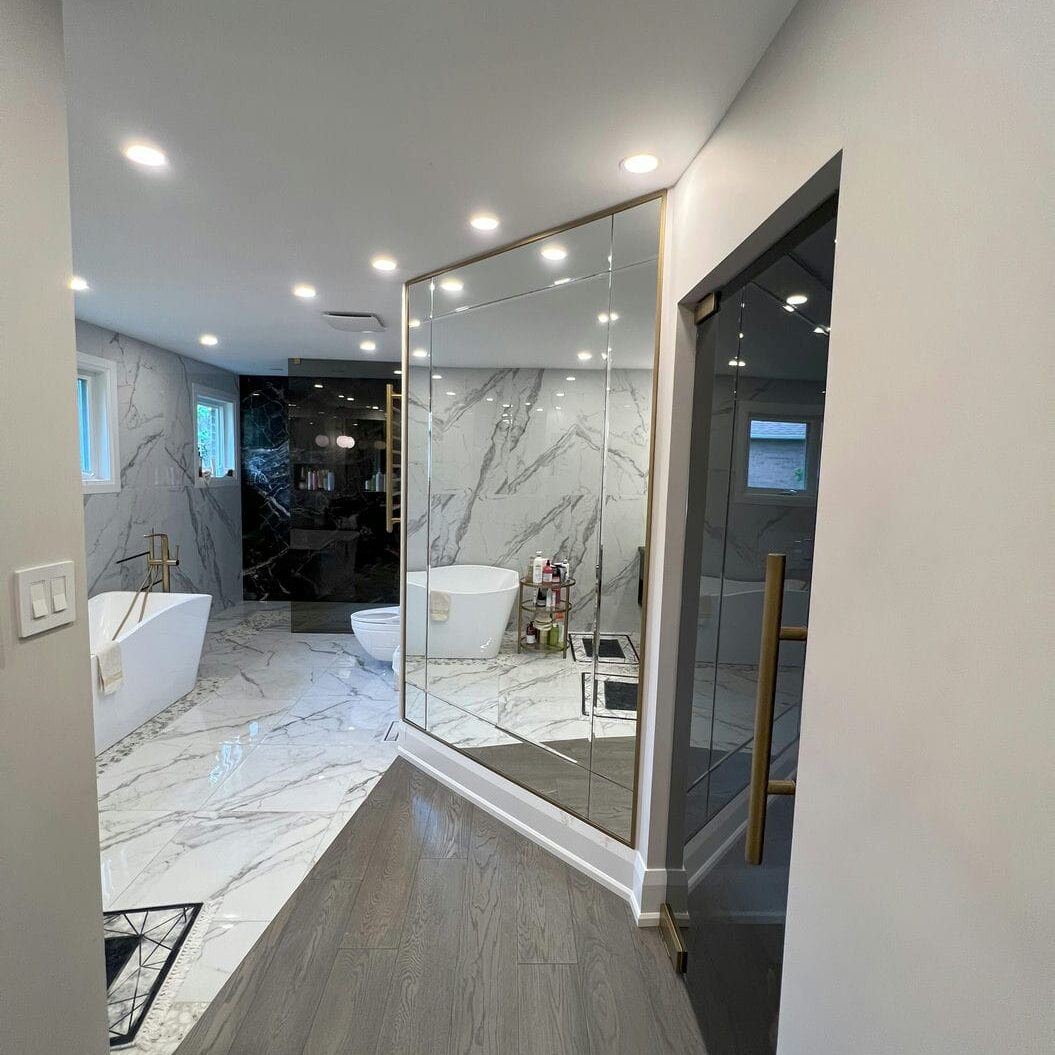 Recent Custom Mirror Projects
We take pride in our ability to craft mirrors that do more than simply reflect; they add depth, brightness, and individuality to your spaces. Our portfolio brims with custom mirror installations, each one a testament to our dedication to meet our clients' unique requirements. We encourage you to explore our diverse project gallery, offering ample inspiration for your own custom mirror needs. Rest assured, if you're searching for Custom Mirrors, GTA Railings stands as a name synonymous with unparalleled quality and design innovation. Our mission is to seamlessly bring your vision to life, ensuring your space shines with our expertly crafted custom mirrors and railings.
Customize Your Mirror with Our Wide Range of Options
Unleash your creativity and design a reflection that's uniquely yours with GTA Railings' wide array of custom mirror options. Our selection of materials, finishes, sizes, and special features ensures your custom mirror is a true embodiment of your personal style and functional needs.
Every space is unique, and we recognize the importance of a perfect fit. That's why we provide custom sizing options, allowing each mirror to be tailored specifically to the designated area in your home or business.
The finish of your mirror's edge can significantly influence its overall appearance. We offer a variety of finishes such as beveled edges for an elegant look and flat edges for a modern aesthetic. Each edge is expertly polished for safety and elegance.
We offer various types of high-quality glass for your custom mirrors, including clear, tinted, or antique finishes. Each type of glass brings a unique aesthetic and practical benefit, allowing you to choose the one that perfectly aligns with your vision.
Our custom mirrors can be complemented with a wide range of frame options. From contemporary sleek metal frames to classic wooden ones, we ensure the frame of your mirror matches your chosen glass and edge finish and harmonizes with your decor.
To enhance the functionality of your custom mirror, we provide special features like anti-fog technology for clear visibility in steamy conditions and safety backing for added safety in the event of breakage.
A Seamless Journey to Your Perfect Custom Mirrors
The process begins with an initial consultation, where we take the time to understand your unique needs, aesthetic preferences, and the specific requirements of your space. Our expert designers then use this information to craft a mirror design that perfectly encapsulates your vision, combining aesthetics and functionality with utmost attention to detail and quality. Moving to the installation phase, our professional team ensures a seamless and efficient experience.
Every step of the way, we maintain constant communication, coordinating with you to ensure minimal disruption to your schedule. Post-installation, we continue to provide support, offering guidance on mirror care and remaining available for any queries or concerns. Whether you're seeking custom mirrors or railings, our professional, personalized service is second to none.
Regardless of whether you're seeking custom railings or exploring our myriad of other services, GTA Railings emerges as a trusted partner. We offer a blend of excellent craftsmanship and stellar service, making us the top choice for your custom project.
We uphold the highest standards of professionalism, with all the necessary certifications and insurance to guarantee a risk-free service.
All of our products are crafted locally in Canada, supporting our national industry while ensuring superior quality and design.
Our seasoned presence in the industry enables us to deliver expert solutions tailored to your project's unique needs.
We leverage top-tier materials in our projects, ensuring that our products are not only appealing but also built to last.
Professional Installation
Our skilled team carries out each installation in strict accordance with the Ontario Building Code, preserving both the aesthetic and structural integrity of your space.
Our comprehensive warranty provides you the ultimate peace of mind—outstanding protection for materials and workmanship without any extra stress.
More Related to Custom Mirrors
For a deep dive into the world of custom mirrors, including insights, expert advice, and the latest design trends, we encourage you to browse through our blog.