Elevate Your Outdoor Space with Superior Quality Deck Railings from GTA Railings
Transform your outdoor space into a stunning masterpiece with our top-quality deck railings. At GTA Railings, we understand that an outdoor deck is more than just a structure, it's a gathering place for friends and family, a quiet retreat for a morning coffee or a charming spot for a summer barbecue. Hence, the significance of a secure, stylish, and durable deck railing system cannot be underestimated.
We specialize in designing and installing elegant deck railings that not only elevate the aesthetic appeal of your deck but also ensure safety and longevity. Whether you desire a contemporary look with clean lines or a classic design with intricate details, we can tailor your deck railings to perfectly suit your style and the architecture of your home or business. Our dedication to superior craftsmanship and customer satisfaction has earned us a reputation as the go-to custom railings company for both commercial and residential applications.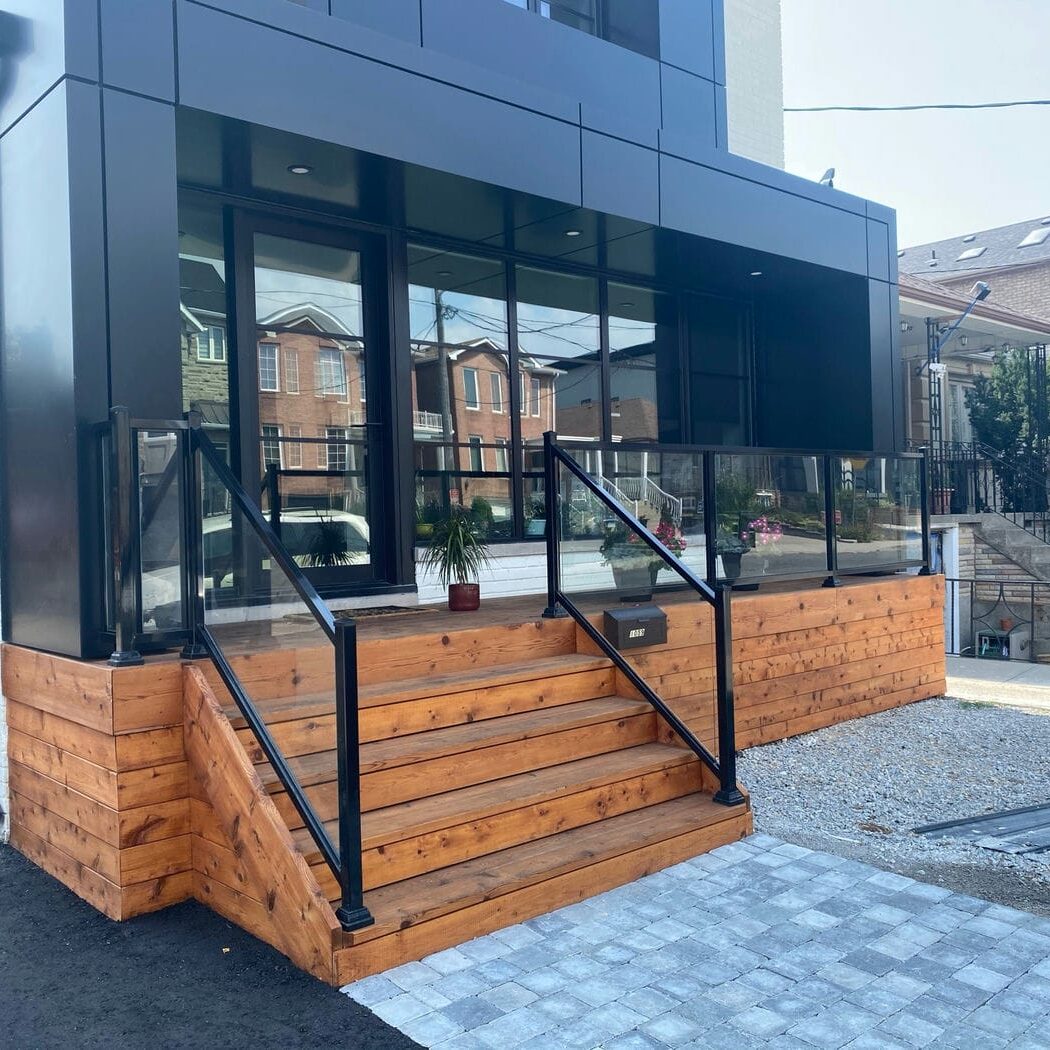 Our Recently Completed Deck Railings
Tips to Consider When Shopping for Deck Railings
At GTA Railings, we understand that deck railings are not just a safety feature, but a crucial component in defining your deck's style and functionality. Our expert team is ready to help you craft a design that suits your taste, lifestyle, and budget. Here are some design consideration you should think about when selecting the perfect deck railing thats right for you.
The balusters, or pickets, of your deck railings can be a defining factor in your overall deck design. From traditional square or turned styles to sleek, modern rods or even custom shapes, the choice of baluster can dramatically change the look of your deck railings.
The top rail in your deck railing design is a further component that can be tailored to your preferences. If you favor a modern, flat style that emphasizes simplicity, or a classic style with an enhanced grip feature for added safety, GTA Railings is equipped to meet your demands.
Combining stainless steel balusters with an aluminum top rail, or using aluminum posts with glass panels, eliminates the need for regular upkeep. Particularly for exterior railings, these durable, maintenance-free options offer a long-lasting solution that stands up to the elements without requiring the continuous care associated with wood.
When it comes  sto deck railing finishes -  instead of natural wood, we advocate for the use of high gloss, scratch-resistant paint. This option offers both a stunning look and robust durability, ensuring your railings stay as appealing as the day they were installed.
Beyond aesthetics, a critical aspect of deck railing design is safety. This can include ensuring proper height and spacing for balusters, sturdy construction, and inclusion of handrails or gates as needed.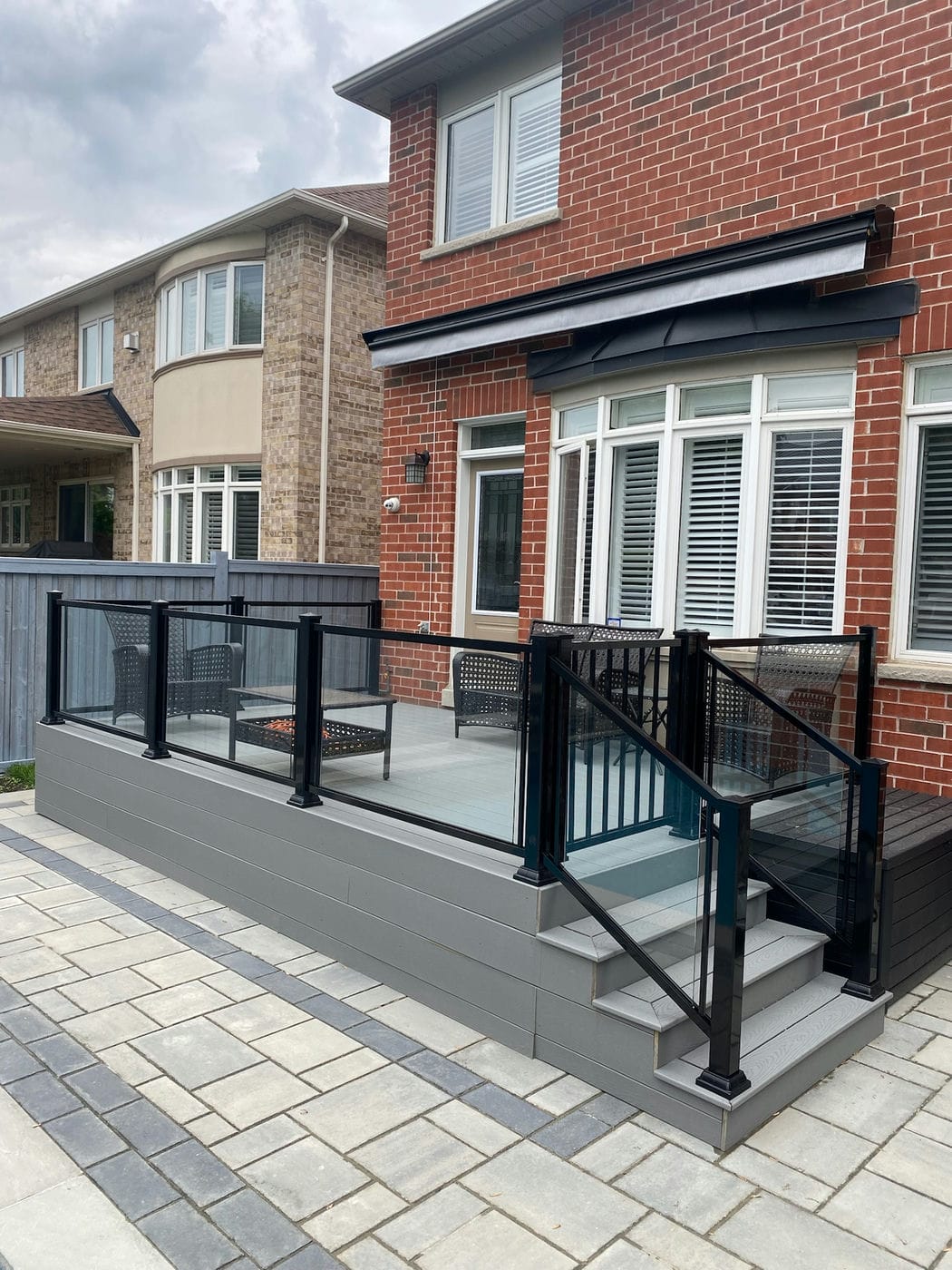 The Process of Crafting Your Perfect Deck Railings
At GTA Railings, we understand that the perfect deck is not complete without the right railings. They are more than just a safety measure; they set the tone for your deck, tying together its design elements and making it truly your own. With this in mind, we strive to turn your vision into reality, crafting custom deck railings that perfectly complement your outdoor living space.
Our journey begins with a thorough discussion about your dream deck. We dive into the specifics - do you envision a modern, minimalist design with sleek stainless steel railings, or does a traditional wooden deck with classic baluster railings appeal more? Every detail, from the choice of material to the color scheme and design intricacies, is considered to ensure your new deck railings are in harmony with your aesthetic preferences and lifestyle.
Following this consultation, our expert team brings your vision to life, designing deck railings that strike the perfect balance between style, safety, and durability. We present you with a detailed design and work closely with you, tweaking and refining until you are entirely satisfied that we've captured the essence of your dream deck.
Regardless of whether you're seeking custom railings or exploring our myriad of other services, GTA Railings emerges as a trusted partner. We offer a blend of excellent craftsmanship and stellar service, making us the top choice for your custom project.
We uphold the highest standards of professionalism, with all the necessary certifications and insurance to guarantee a risk-free service.
All of our products are crafted locally in Canada, supporting our national industry while ensuring superior quality and design.
Our seasoned presence in the industry enables us to deliver expert solutions tailored to your project's unique needs.
We leverage top-tier materials in our projects, ensuring that our products are not only appealing but also built to last.
Professional Installation
Our skilled team carries out each installation in strict accordance with the Ontario Building Code, preserving both the aesthetic and structural integrity of your space.
Our comprehensive warranty provides you the ultimate peace of mind—outstanding protection for materials and workmanship without any extra stress.
More Info on Deck Railings
Find a wealth of articles on various topics related to deck railings, from the latest design trends to maintenance tips, installation guides, and much more.