Safeguard Your Leisure with our Elegant Pool Railings
Elevate your poolside experience with our specialized pool railings, a perfect blend of style, safety, and durability. GTA Railings, your trusted partner in providing premium railings solutions, brings you an exquisite range of pool railings designed to enhance the beauty of your pool area while ensuring user safety. We understand that every poolside has its unique charm, which is why we offer bespoke railings solutions to fit your specific needs, whether residential or commercial.
Our pool railings not only serve as an essential safety measure, reducing the risk of slips and falls, but they also add an extra layer of sophistication to your property. We use top-grade materials and state-of-the-art installation techniques, guaranteeing you an enduring and appealing pool area. With years of experience and a reputation for excellence, we are your ideal choice for reliable, functional, and elegant pool railings.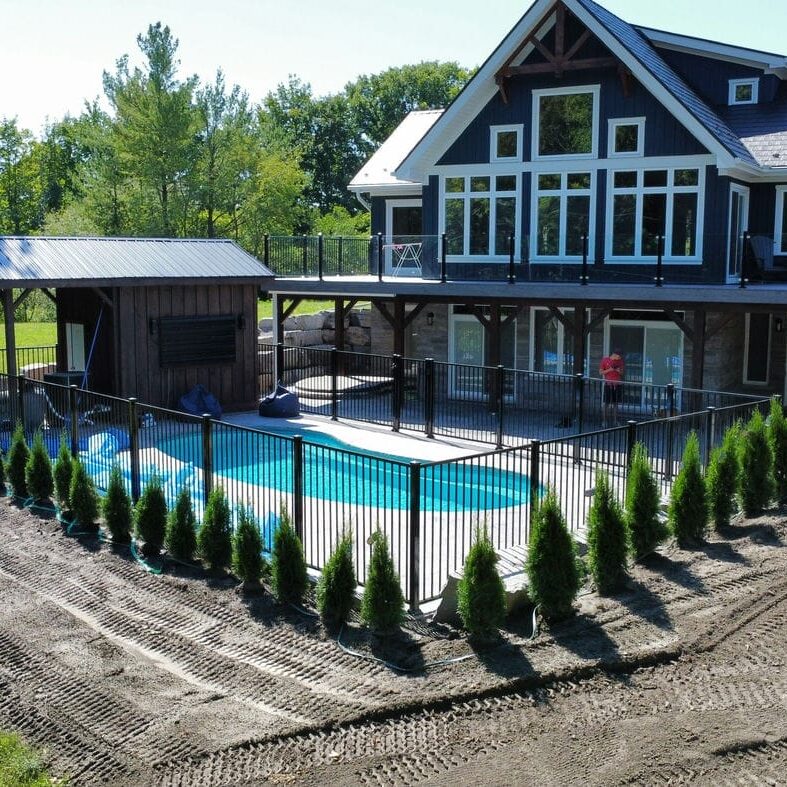 Recent Projects With Pool Railings
Take a moment to explore our recent pool railings projects, a testament to our commitment to delivering top-notch quality and impeccable design. GTA Railings has had the privilege of enhancing numerous poolscapes across the residential and commercial spectrum, earning the trust of our valued clients with our custom railings solutions. Each project we undertake is an opportunity to innovate, meet unique client needs, and leave a lasting impact with our resilient and attractive pool railings. Our portfolio showcases diverse pool railings styles, each installation done with the utmost precision and an eye for detail. Whether it's a luxurious commercial spa or a cozy residential pool, we've brought our expertise to bear, installing pool railings that perfectly blend with the surroundings while bolstering safety and ease of access.
Essential Factors to Consider When Choosing Your Pool Railings
Selecting the ideal pool railings for your outdoor oasis is a critical decision that encompasses several factors. At GTA Railings, we excel in delivering the right blend of safety, aesthetics, and durability. To guide you in your journey, we present six key aspects to keep in mind while shopping for your perfect pool railings:
The material selection significantly influences the aesthetics, longevity, and upkeep of your pool railings. From the timeless elegance of stainless steel to the modern sophistication of glass and the lightweight durability of aluminum, each material presents its unique charm and benefits. At GTA Railings, we provide these premium choices to cater to diverse design tastes and functional needs.
Safety should never be compromised, especially in a pool area where the risk of slips and falls is higher. Our pool railings are designed and installed with the utmost attention to safety, ensuring a secure grip and stability. With our railings, you can enjoy your leisure time without worry.
Poolsides are often exposed to water, chemicals, and varying weather conditions. Therefore, the pool railings you choose need to withstand these factors without losing their integrity or aesthetic appeal. At GTA Railings, we guarantee durability with our high-quality materials and expert installation.
Maintenance plays a pivotal role in preserving the appearance and function of your pool railings. We understand that our clients value ease and convenience, hence our railings are designed for low maintenance without compromising on quality or design.
Your pool railings should not only be functional but also enhance the overall look of your pool area. Our team of experts work closely with you to understand your design preferences and deliver pool railings that perfectly complement your architectural style.
Professional Installation
Proper installation of pool railings is crucial for ensuring their longevity and effectiveness. Trusting a reputable company like GTA Railings means entrusting your safety to experienced professionals. We offer top-notch installation services that adhere to industry standards and safety regulations.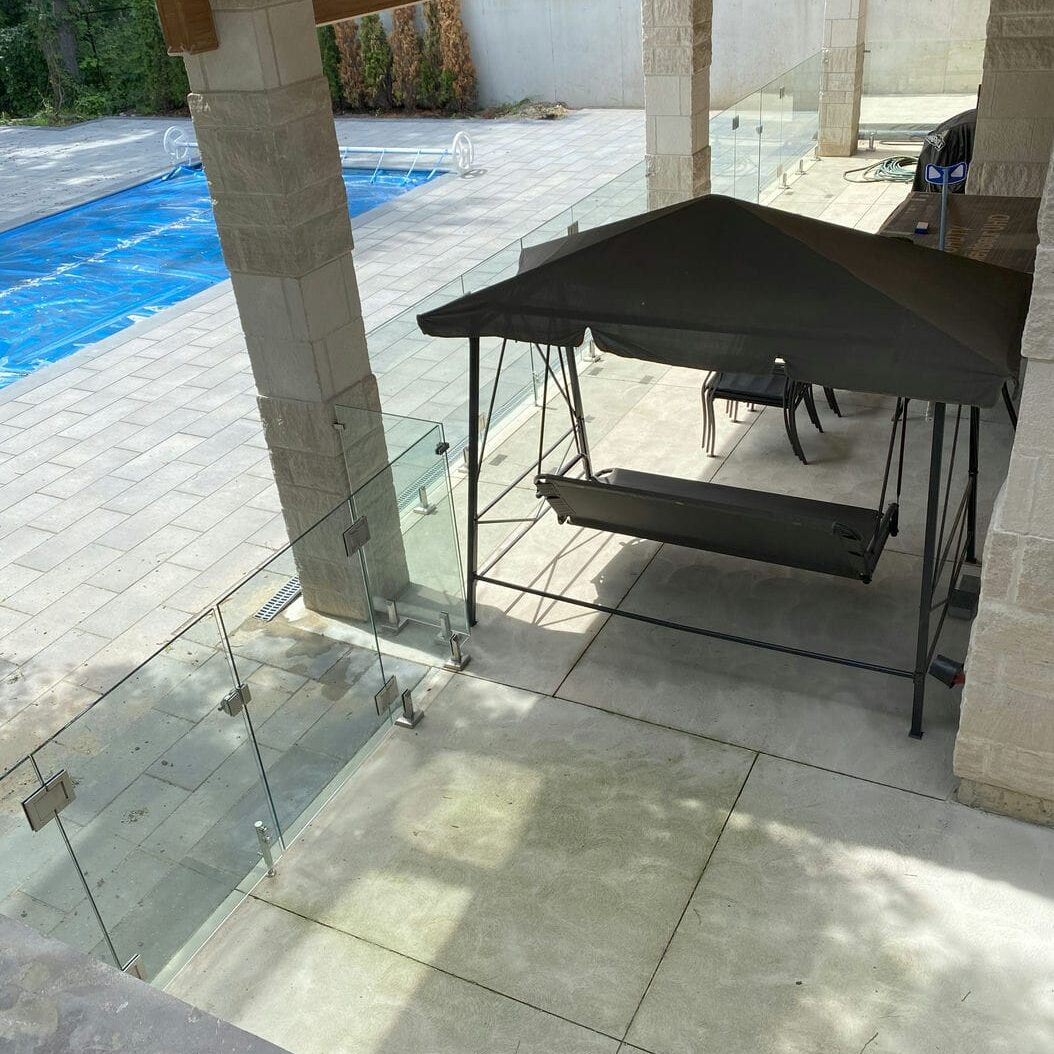 Crafting Your Vision: Our Custom Pool Railings Process
Creating custom pool railings that align perfectly with your vision is our mission at GTA Railings. The journey begins with an in-depth consultation where our experts listen to your ideas and expectations. We pay attention to every detail, from material and color choices to style preferences and safety considerations.
Post consultation, our talented design team creates a blueprint that encapsulates your vision. This design is then subject to your approval, ensuring we've accurately captured your ideas. Once you're satisfied, our skilled installation team brings your bespoke pool railings to life, maintaining high standards of safety and precision. At GTA Railings, we transform your vision into reality, producing pool railings that enhance your outdoor space and pool experience. Choose us for a personalized and professional approach to pool railings.
Regardless of whether you're seeking custom railings or exploring our myriad of other services, GTA Railings emerges as a trusted partner. We offer a blend of excellent craftsmanship and stellar service, making us the top choice for your custom project.
We uphold the highest standards of professionalism, with all the necessary certifications and insurance to guarantee a risk-free service.
All of our products are crafted locally in Canada, supporting our national industry while ensuring superior quality and design.
Our seasoned presence in the industry enables us to deliver expert solutions tailored to your project's unique needs.
We leverage top-tier materials in our projects, ensuring that our products are not only appealing but also built to last.
Professional Installation
Our skilled team carries out each installation in strict accordance with the Ontario Building Code, preserving both the aesthetic and structural integrity of your space.
Our comprehensive warranty provides you the ultimate peace of mind—outstanding protection for materials and workmanship without any extra stress.
More Information Related to Pool Railings
If you're on the lookout for pool railings, we encourage you to dive into our informative blog. Here, you'll uncover valuable insights that will streamline your shopping journey, making it an immersive and effortless plunge into the world of pool railings.