Safe and Elegant: Superior Quality Restaurant Railings
Our company has been passionately creating custom railings for commercial applications, including restaurants, making us the foremost authority in this specialized area. If you're searching for the perfect blend of aesthetic appeal, durability, and safety in restaurant railings, look no further.
Our restaurant railings are not merely structural elements; they are an integral part of your establishment's ambiance and safety. Balancing form and function, our highly skilled team works diligently to design, manufacture, and install railings that flawlessly integrate with your restaurant's design and adhere to all safety standards. The beauty and safety of your restaurant's interior and exterior spaces are our top priorities.
Whether you're in the midst of a restaurant construction project, refurbishment, or simply looking to elevate your establishment's aesthetic, GTA Railings is committed to bringing your vision to life.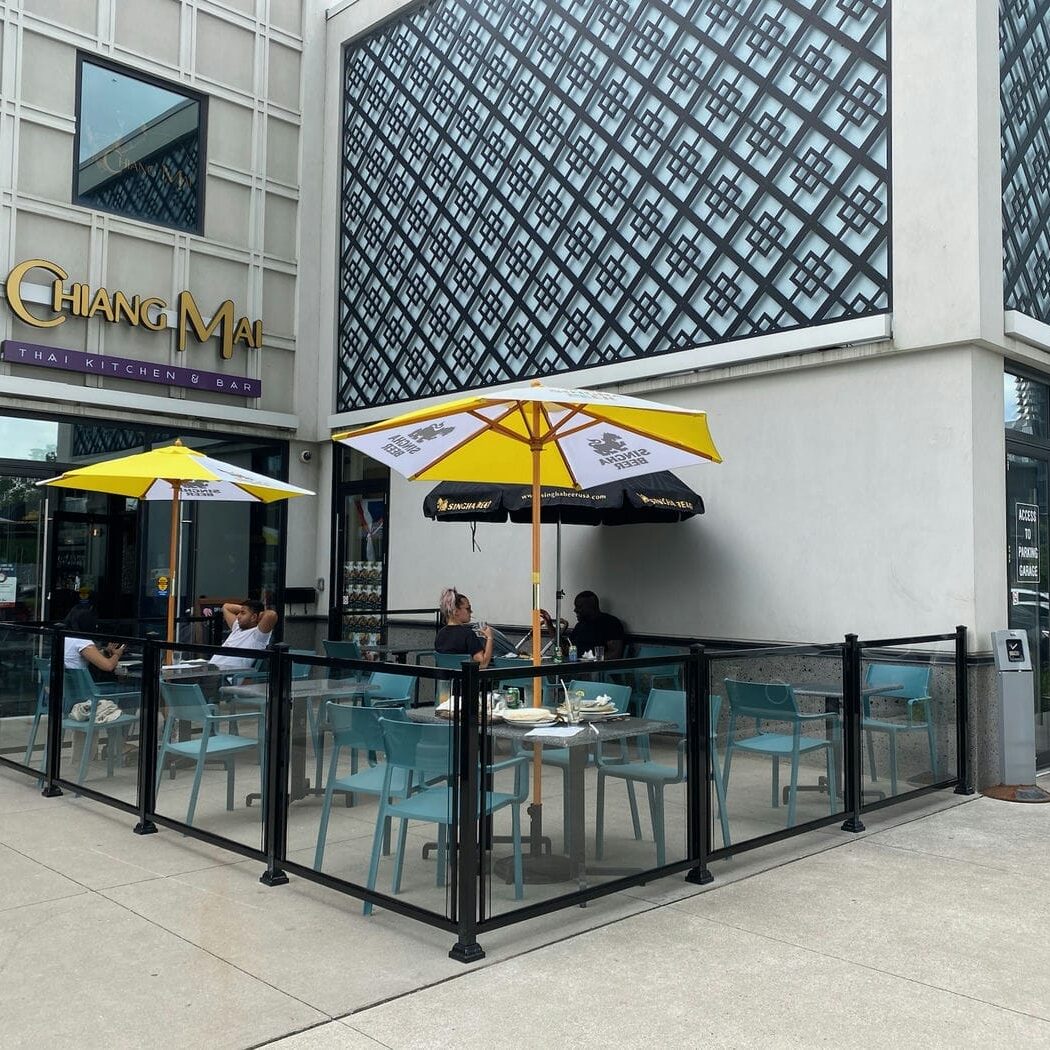 Our Recent Restaurant Railings Projects
Experience the exceptional craftsmanship and quality of GTA Railings through our recently completed restaurant railings projects. Our broad portfolio, rich with diverse design styles, encapsulates our commitment to delivering unparalleled safety, durability, and aesthetic appeal. Each project, regardless of size or style, reflects our tailored approach to meet the unique requirements of every dining establishment. With GTA Railings, you get more than a product; you engage a service devoted to enhancing your restaurant's ambiance and ensuring memorable dining experiences. Explore
Why Choose GTA Railings for Your Restaurant Railings?
Choosing the right restaurant railings is crucial to the success of your establishment. At GTA Railings, we take the guesswork out of this process, providing solutions that prioritize safety, durability, aesthetics, and much more. Here are six compelling reasons why GTA Railings should be your first choice.
At GTA Railings, we prioritize the safety of your patrons and staff. All our restaurant railings are compliant with local building codes and standards, so you can rest easy knowing you've provided a safe environment.
We understand that a bustling restaurant requires resilient railings. Our materials – aluminum, stainless steel, and glass – are all chosen for their long-lasting durability and ease of maintenance.
We believe your restaurant's railings should enhance, not detract from your decor. That's why we offer a range of styles to suit any establishment, whether you're a modern eatery, a cozy bistro, or a high-end dining venue.
At GTA Railings, we respect that your time is valuable. Our professional team ensures a seamless, efficient installation process with minimal disruption to your business operations.
Budget-Friendly Solutions
We're committed to providing top-quality restaurant railings at competitive prices. With GTA Railings, you get the best of both worlds - affordable upfront costs and long-term savings due to our railings' durability and low maintenance needs.
We recognize that every restaurant is unique. As such, we offer custom restaurant railings designed to seamlessly blend with your specific layout and aesthetic requirements.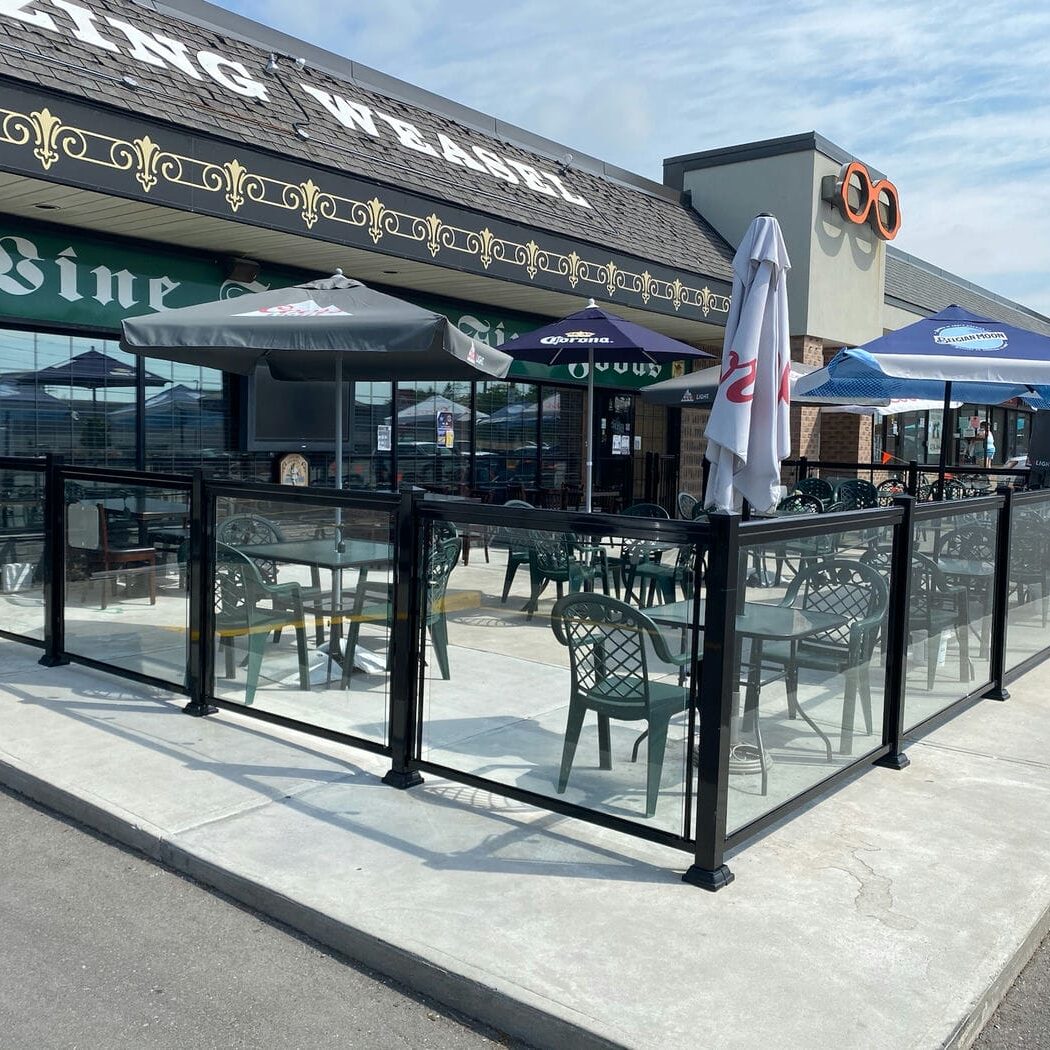 Transforming Your Vision into Exceptional Restaurant Railings
At GTA Railings, we excel in transforming your unique vision into modern restaurant railings that elevate your dining space's ambiance. The journey begins with a thorough consultation, during which our team captures your ideas and fully understands your restaurant's aesthetic and functional needs. This invaluable dialogue provides the insights necessary for us to accurately represent your vision in our detailed design plan.
Following your approval of the design, our skilled artisans breathe life into your restaurant railings. Using precise craftsmanship, we create a harmonious blend of safety, style, and function that not only meets but exceeds your expectations. With GTA Railings, you gain more than a product - you acquire a dedicated partner in achieving your vision. Experience our commitment to excellence and discover the transformative power of our custom restaurant railings today.
Regardless of whether you're seeking custom railings or exploring our myriad of other services, GTA Railings emerges as a trusted partner. We offer a blend of excellent craftsmanship and stellar service, making us the top choice for your custom project.
We uphold the highest standards of professionalism, with all the necessary certifications and insurance to guarantee a risk-free service.
All of our products are crafted locally in Canada, supporting our national industry while ensuring superior quality and design.
Our seasoned presence in the industry enables us to deliver expert solutions tailored to your project's unique needs.
We leverage top-tier materials in our projects, ensuring that our products are not only appealing but also built to last.
Professional Installation
Our skilled team carries out each installation in strict accordance with the Ontario Building Code, preserving both the aesthetic and structural integrity of your space.
Our comprehensive warranty provides you the ultimate peace of mind—outstanding protection for materials and workmanship without any extra stress.
More Information on Restaurant Railings
Filled with invaluable tips and insights, our blog is a resource designed to streamline your selection process and help you choose the right railings for your restaurant.