Premium Walkout Railings: Safety and Aesthetics Hand-in-Hand
Our walkout railings perfectly blend strength, style, and functionality. We ensure that our products not only meet but exceed all safety codes and regulations. But that's not all - while being robust and reliable, our walkout railings are also designed to be visually appealing. We offer a wide range of materials and styles, from sleek and modern to classic and elegant, all customizable to match your property's existing design aesthetic.
When it comes to "Walkout Railings", GTA Railings is the name that stands out. We understand the importance of outdoor safety without compromising on style. You can count on us to provide a seamless, professional installation that will elevate your property's visual appeal and provide a secure and comfortable outdoor environment. Experience the unique blend of craftsmanship, safety, and design that is synonymous with GTA Railings. Your satisfaction is our primary objective, and we won't rest until your walkout railing exceeds your expectations.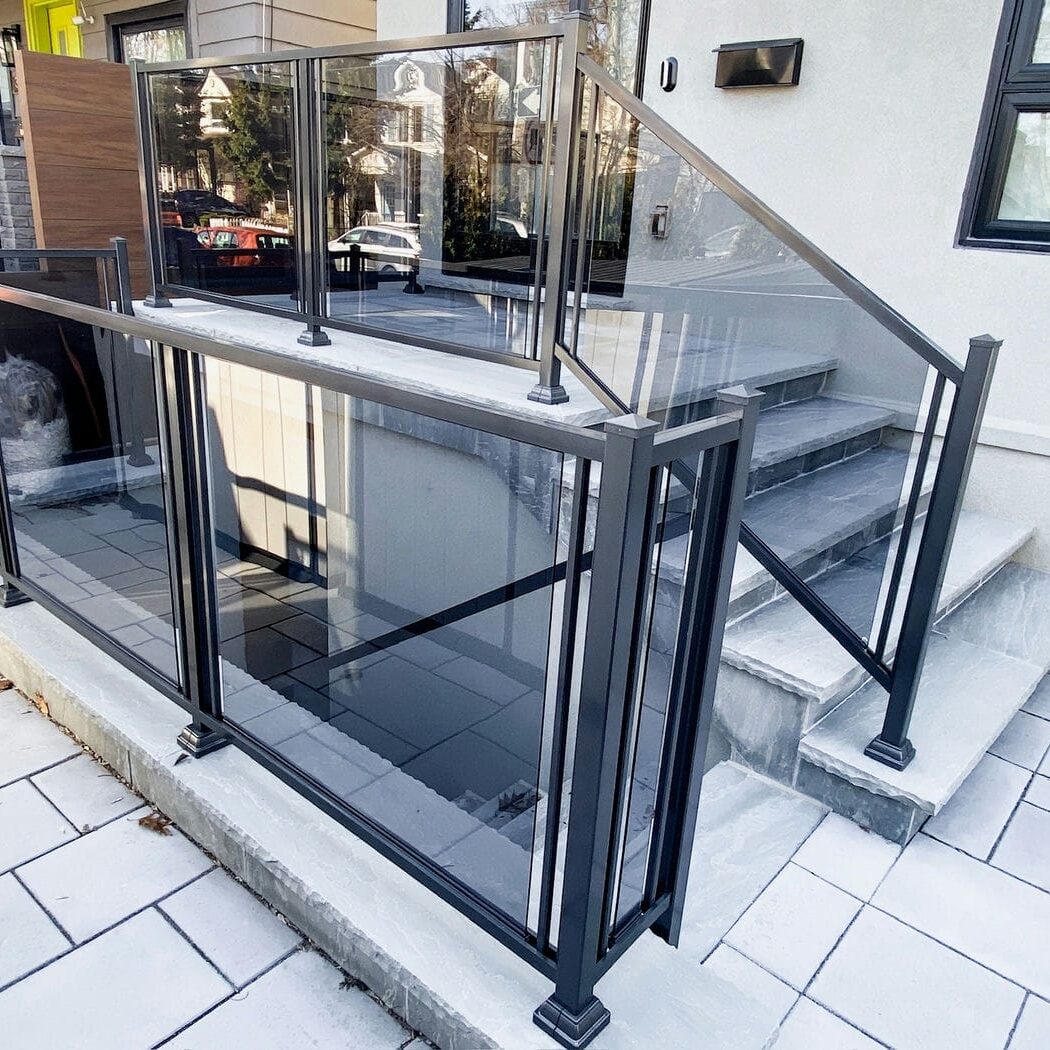 Our Recent Walkout Railing Projects
These completed projects are a testament to our proficiency in "Walkout Railings" design and installation. They embody the quality and value that GTA Railings has become known for. By browsing our recent projects, you will be able to envision how our custom railings can enhance your property's safety, accessibility, and design aesthetics. Take a glimpse into our world of walkout railings, and you'll see why GTA Railings is the trusted choice for custom railings solutions.
Top Considerations When Choosing Your Perfect Walkout Railings
At GTA Railings, we're committed to helping you make an informed choice that brings together design, safety, durability, and value. Here are six pivotal factors we guide you through to ensure your new walkout railings not only look stunning but also serve your needs flawlessly:
Nothing matters more to us than your safety. We'll help you navigate critical elements like railing height, structural stability, and bar spacing—ensuring a safe and secure environment for all, especially in areas accessed by children or pets.
With our expertise, you'll select walkout railings built to endure the elements. We recommend materials like corrosion-resistant aluminum and stainless steel to promise you a long-lasting investment.
Our aim is to enhance your property's charm. Whether you favor a modern minimalist aesthetic or a traditional one, we ensure your walkout railings elevate your property's overall appeal.
Beyond their look, the material of your railings plays a significant role in durability, maintenance, and cost. We walk you through the unique benefits of each—from the lightweight resilience of aluminum, the timeless elegance of stainless steel, to the unobstructed view provided by glass.
We value your time and understand the need for low-maintenance solutions. Depending on your choice of material, we offer walkout railings that require minimal upkeep, allowing you more time to enjoy your space.
We believe in delivering value. With a keen eye on your budget, we balance cost with quality, ensuring your investment in walkout railings is both affordable and superior in quality.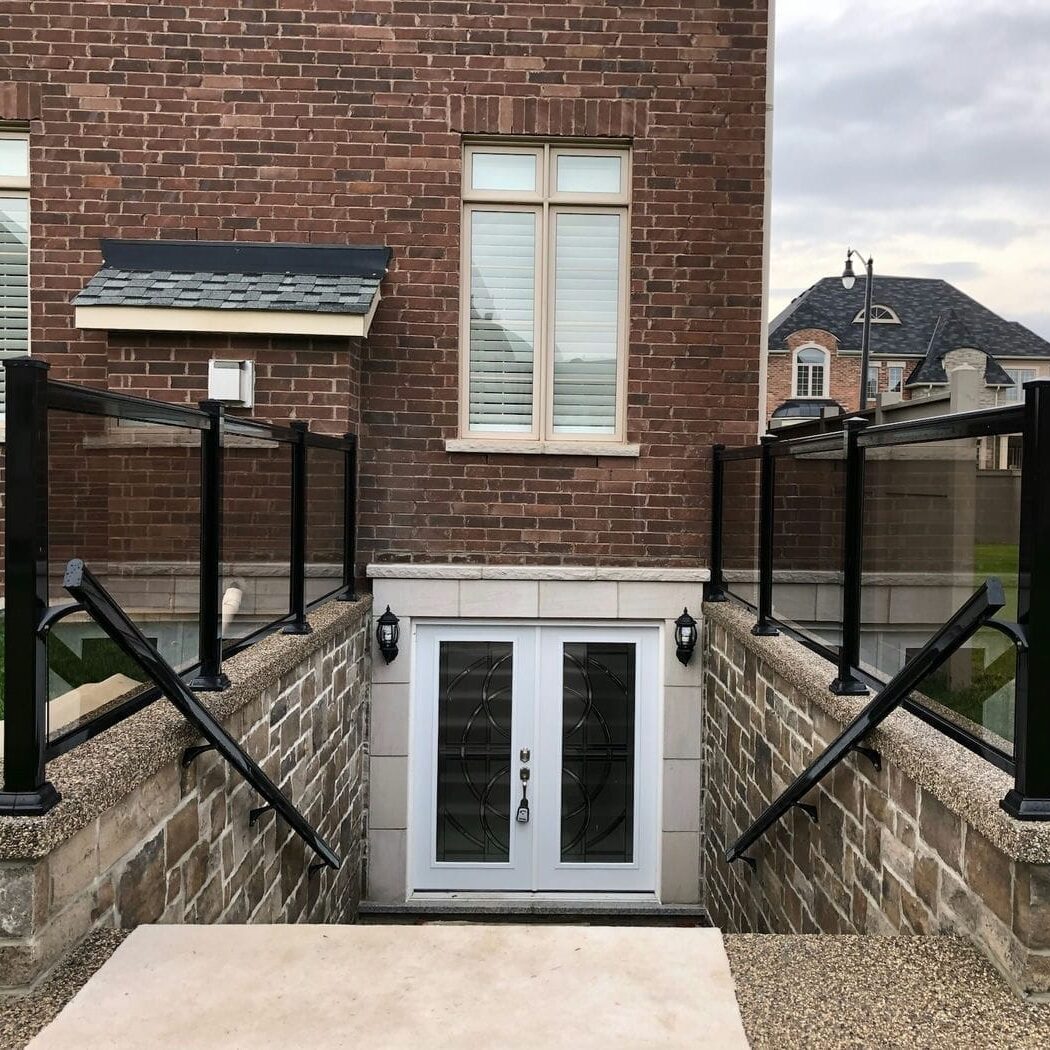 Crafting Your Vision into Reality: Custom Walkout Railings by GTA Railings
At GTA Railings, we specialize in turning your ideas into beautifully crafted walkout railings that are as unique as your vision. Our dedicated team engages with you, first through an in-depth consultation, capturing your design preferences and practical needs. This exchange serves as the blueprint for our design process, ensuring your Walkout Railings truly embody your vision.
Next, we transition into the design and planning phase. Drawing on their extensive knowledge, our experts develop a design that marries aesthetic appeal with structural integrity. The crafted design is then brought to life by our skilled craftsmen using high-quality materials, ensuring both beauty and durability.
Through each step, we remain open to your feedback and responsive to your needs. After all, at GTA Railings, we strive to create a product that doesn't just meet, but surpasses your expectations. Trust us to transform your outdoor space with custom Walkout Railings that are a true reflection of your taste and lifestyle.
Regardless of whether you're seeking custom railings or exploring our myriad of other services, GTA Railings emerges as a trusted partner. We offer a blend of excellent craftsmanship and stellar service, making us the top choice for your custom project.
We uphold the highest standards of professionalism, with all the necessary certifications and insurance to guarantee a risk-free service.
All of our products are crafted locally in Canada, supporting our national industry while ensuring superior quality and design.
Our seasoned presence in the industry enables us to deliver expert solutions tailored to your project's unique needs.
We leverage top-tier materials in our projects, ensuring that our products are not only appealing but also built to last.
Professional Installation
Our skilled team carries out each installation in strict accordance with the Ontario Building Code, preserving both the aesthetic and structural integrity of your space.
Our comprehensive warranty provides you the ultimate peace of mind—outstanding protection for materials and workmanship without any extra stress.
More Information on Walkout Railings
To further enhance your understanding and offer you more insights, check out these blogs related to walkout railings.