GTA Railings Provides Unmatched Excellence in Stair Railings
We believe that stair railings are more than just functional elements of your property - they are a statement of style, safety, and sophistication. For years, we have been elevating commercial and residential spaces across Greater Toronto Area with our custom-made, top-quality stair railings.
In both indoor and outdoor applications, our stair railings seamlessly blend in with your décor while significantly enhancing the overall aesthetic appeal. Whether you're renovating, building a new home, or simply need a safe and stylish upgrade, stair railings from GTA Railings are the perfect choice.
Beyond their visual appeal, our stair railings also add an essential safety feature, guiding movements on staircases and preventing potential falls. Quality, durability, and safety – that's what you can expect from our stair railings.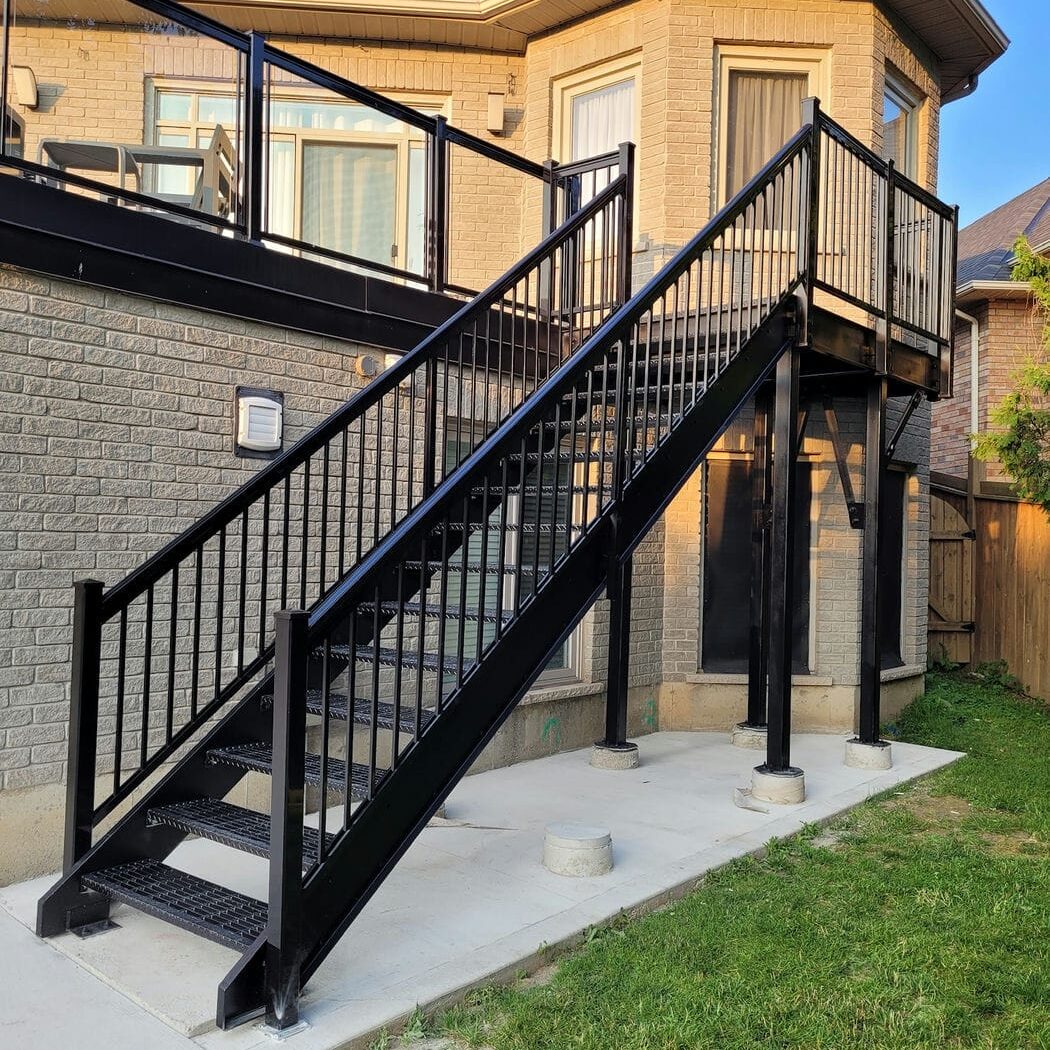 Showcasing Our Stair Railings Excellence
Our expertise extends across a wide range of applications, be it crafting railings for stairs in upscale residential properties or implementing robust stair railings solutions for commercial spaces across the Greater Toronto Area. Whether we're tasked with creating modern glass stair railings for a chic urban loft or installing traditional wrought-iron replica railings in a suburban residence, our work resonates with quality, durability, and aesthetic appeal. With GTA Railings, your vision for a beautiful and safe staircase will become a reality, one carefully crafted railing at a time.
Things to Consider When Selecting Your Stair Railings
Creating the ideal stair railings for your space requires considering various design elements, each contributing to the overall aesthetics and functionality. Here are six essential aspects you should consider when choosing the design your stair railings
For interior applications, the standard railing height is generally between 34 to 38 inches above the stair nosing. However, for exterior applications, a slightly taller height, typically ranging from 36 to 48 inches, is commonly employed. Nonetheless, these standard measurements can vary in line with local building codes and the specific needs of the users.
Whether it's gaps between aluminum or stainless steel balusters, or the width of glass panels, appropriate spacing is key. To enhance safety—especially in homes with children—spacing should ideally be less than 4 inches, as suggested by building codes, without compromising on aesthetic appeal.
The balusters, or vertical supports of the handrail, significantly contribute to the overall look of your stair railings. Aluminum or steel balusters can be shaped into various designs, while glass railings often use panels instead of traditional balusters, offering a sleek, modern look.
Irrespective of the material—aluminum, stainless steel, or glass—the design of the handrail should offer a comfortable grip and complement your space's aesthetic. Whether you prefer a modern, sleek handrail or a traditionally contoured one, it forms an integral part of your stair railing's design.
The latest trend in stair railings is simplicity, focusing on clear lines and sleek elegance. Following these trends ensures your stair railings stay up-to-date, whether you prefer a modern or classic style. This way, your railings will always look great, adding to your home's appeal.
While aesthetics and safety are key, the longevity of your stair railings is also a crucial factor. Aluminum railings are known for their resistance to corrosion and low maintenance, stainless steel offers robust durability, and while glass railings provide a modern, clean aesthetic that may require more frequent cleaning.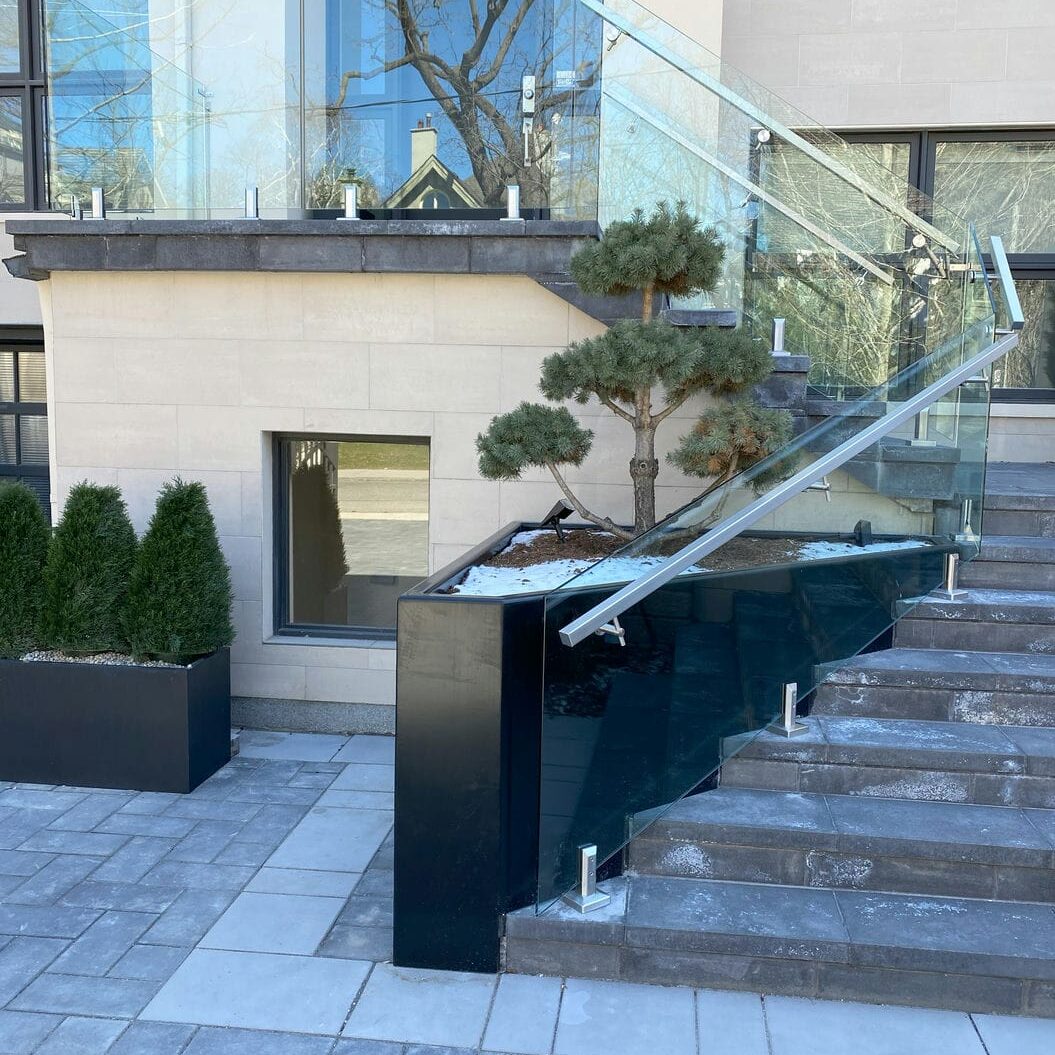 Our Process of Crafting Your Vision into Reality
At GTA Railings, we pride ourselves on our ability to not just build stair railings, but to truly capture and manifest the unique vision of our customers. The process begins with us immersing ourselves in understanding your specific needs and preferences. We believe that every project, every home, and every commercial space holds its own distinctive character, and our mission is to create stair railings that elevate and reflect this uniqueness.
Once we've grasped your vision, our team of design professionals employs their industry expertise and the latest design tools to transform your ideas into an actionable plan. We take into consideration all aspects of your staircase and the surrounding architecture, ensuring that our designs will not only fit perfectly but also enhance the overall aesthetics.
Then, our skilled craftsmen get to work, meticulously crafting your custom stair railings using the finest materials that blend durability and style. At every step of the way, we ensure a seamless integration of your vision, our expertise, and the practicalities of your space.
Regardless of whether you're seeking custom railings or exploring our myriad of other services, GTA Railings emerges as a trusted partner. We offer a blend of excellent craftsmanship and stellar service, making us the top choice for your custom project.
We uphold the highest standards of professionalism, with all the necessary certifications and insurance to guarantee a risk-free service.
All of our products are crafted locally in Canada, supporting our national industry while ensuring superior quality and design.
Our seasoned presence in the industry enables us to deliver expert solutions tailored to your project's unique needs.
We leverage top-tier materials in our projects, ensuring that our products are not only appealing but also built to last.
Professional Installation
Our skilled team carries out each installation in strict accordance with the Ontario Building Code, preserving both the aesthetic and structural integrity of your space.
Our comprehensive warranty provides you the ultimate peace of mind—outstanding protection for materials and workmanship without any extra stress.
More Info on Stair Railings
Explore our curated collection of insightful blogs below, packed full of expert advice, latest trends, and informative guides related to stair railings.