Enhance Your Home with Our High Quality Porch Railings
At GTA Railings, we're your one-stop solution for high-quality porch railings in both commercial and residential settings. As industry leaders, we specialize in transforming your exterior spaces with our expertly designed and professionally installed railings. Beyond serving as a safety feature, our porch railings contribute significantly to the aesthetic and overall value of your property.
Each home or business has its unique charm and requires a personalized approach. With our wide range of styles, materials, and finishes, you have the freedom to create a porch railing that is a perfect match for your property. Whether your preference is the traditional elegance of classic designs or the sleek sophistication of modern glass, GTA Railings guarantees quality, durability, and precision in every project. We understand that porch railings are more than an aesthetic element - they provide safety, uphold structural integrity, and enhance your property's curb appeal. Invest in your property with GTA Railings - your reliable partner for exceptional porch railings.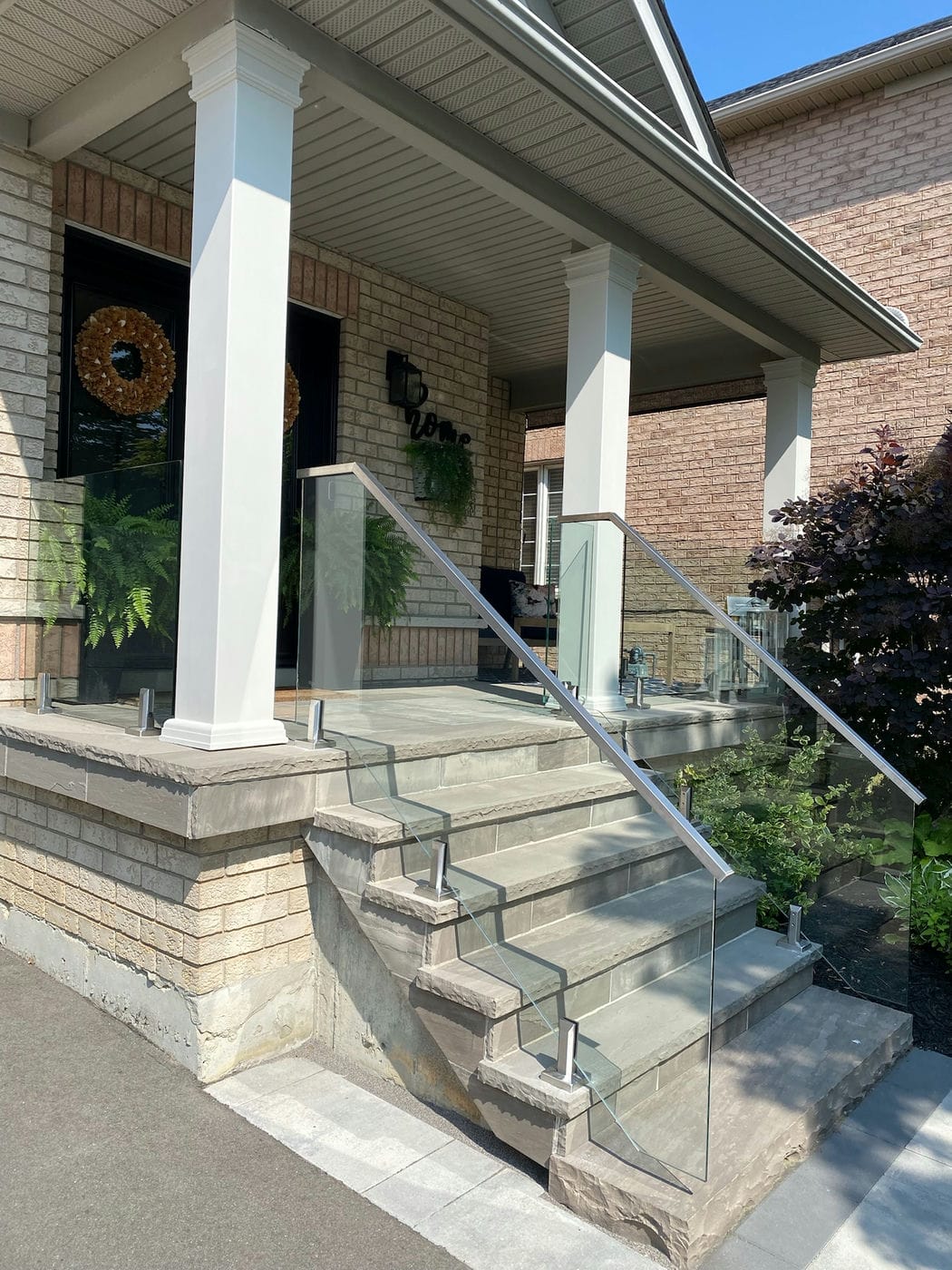 Recently Completed Porch Railings
Take a virtual tour through our accomplished porch railings projects that span across both commercial and residential properties. We specialize in the expert crafting and installation of aluminum, stainless steel, and glass railings, all of which add a unique touch of sophistication and elegance to any property. With our railings, you don't just enhance safety; you significantly uplift the aesthetic appeal of your outdoor spaces. As you navigate through our portfolio, let our work inspire you and spur creativity for your own railing project. At GTA Railings, we're more than ready to assist you in transforming your porch railing vision into a tangible reality.
Tips to Consider When Shopping for Porch Railings
Looking to spruce up your porch with new railings? It's not just about looks - think about material, durability, safety, privacy, view, and comfort too. Here's a quick rundown on what to keep in mind when shopping for your own porch railings.
The choice of material for your porch railings, be it glass, aluminum, or stainless steel, is crucial. Each offers a unique aesthetic appeal and varies in terms of durability. For instance, aluminum is known for its resistance to corrosion and extreme weather conditions, while glass railings provide a modern look and unobstructed views.
Durability is a key factor when choosing porch railings. You'll want a material that can resist harsh weather conditions, bear weight, and withstand frequent use. The durability of your chosen material contributes to the longevity of your porch railings, making it a worthwhile investment in the long run.
Safety is paramount when it comes to porch railings. A sturdy, well-installed railing structure of an appropriate height can prevent accidents and ensure the safety of children and adults alike. The strength of the material, the quality of installation, and the design all contribute to the overall safety of your railings.
If your porch is situated in a busy area or you cherish your privacy, choosing the right design for your porch railings can offer the desired level of seclusion. For example, closely spaced balusters or a semi-opaque glass (such as frosted or sandblasted glass) could provide more privacy without compromising the style and aesthetics of your porch.
Choosing the right tint for your glass railings is essential for homeowners seeking a unique aesthetic. Various tints like clear, frosted, or even colored glass can offer different perspectives, blending or contrasting with your home's surrounding environment. The chosen tint should enrich your home's look, not overshadow it.
Comfort is a significant factor for those who relish their time spent on their balcony, patio, veranda, or by the rooftop pool. The railings in these spaces should offer a comfortable grip and an ideal height to lean against. The chosen material can significantly influence the comfort - for instance, aluminum or stainless steel railings may offer a distinct tactile experience, particularly under varying weather conditions.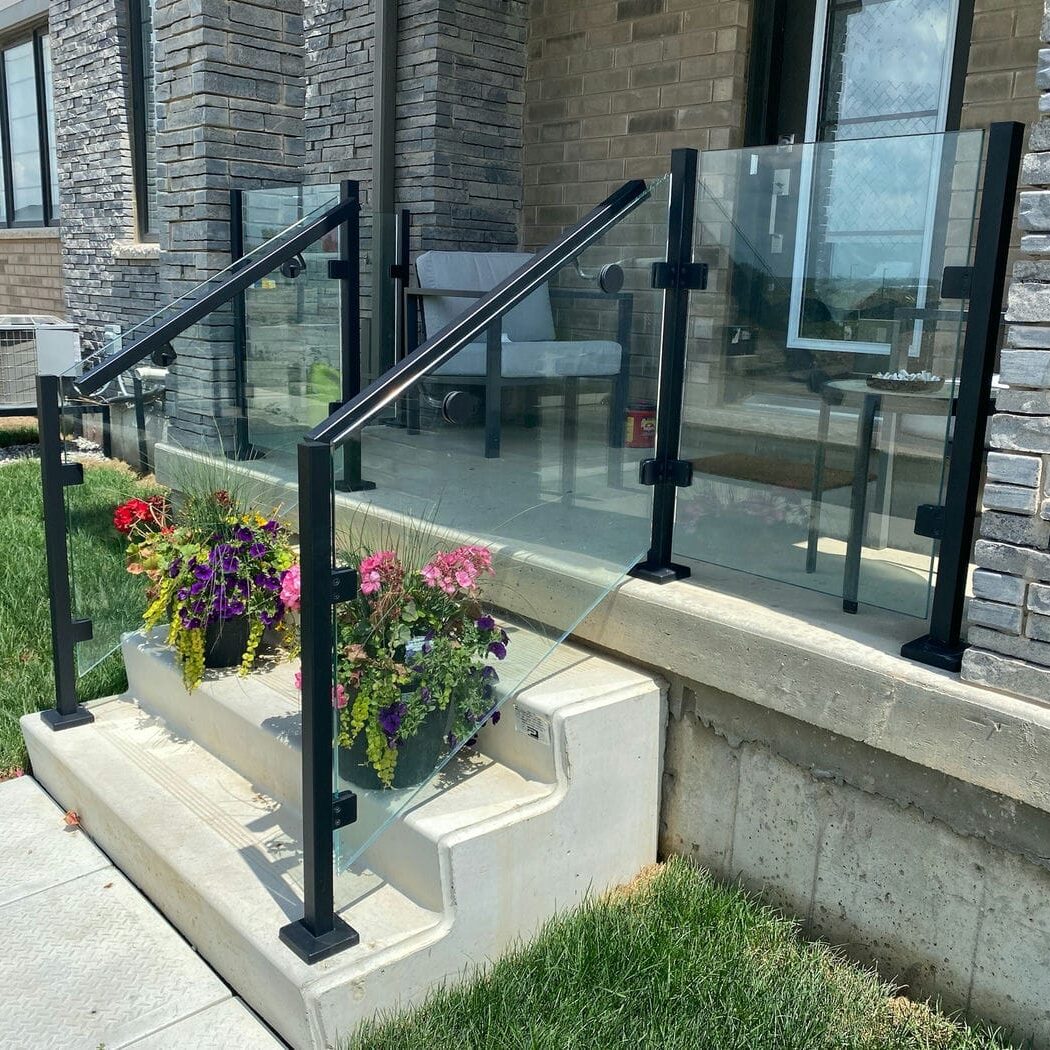 Installing New Porch Railings Is Easy With Our Curated Process
At GTA Railings, we're all about turning dreams into reality when it comes to porch railings. We understand that each home is unique and every homeowner has a distinct vision. We're not just installing railings, we're crafting modern outdoor experiences.
We kickstart the process by immersing ourselves in your thoughts, picking up on the nuances of your design preferences. This informs our crafting process, allowing us to create railings that are an extension of your personality. Whether it's the sleek modernity of glass, the classic elegance of stainless steel, or the robust charm of aluminum, we offer a range of materials to complement your vision.
The journey to your custom porch railings is collaborative and exciting. From the initial idea exchange to the final installation, our team is committed to ensuring your porch railings elevate your home's aesthetic and stand the test of time. Let GTA Railings bring your unique vision to life with porch railings that resonate with your style and expectations.
Regardless of whether you're seeking custom railings or exploring our myriad of other services, GTA Railings emerges as a trusted partner. We offer a blend of excellent craftsmanship and stellar service, making us the top choice for your custom project.
We uphold the highest standards of professionalism, with all the necessary certifications and insurance to guarantee a risk-free service.
All of our products are crafted locally in Canada, supporting our national industry while ensuring superior quality and design.
Our seasoned presence in the industry enables us to deliver expert solutions tailored to your project's unique needs.
We leverage top-tier materials in our projects, ensuring that our products are not only appealing but also built to last.
Professional Installation
Our skilled team carries out each installation in strict accordance with the Ontario Building Code, preserving both the aesthetic and structural integrity of your space.
Our comprehensive warranty provides you the ultimate peace of mind—outstanding protection for materials and workmanship without any extra stress.
More Info on Porch Railings
Looking for more insights on porch railings? Check out the following blogs that delve into a variety of topics related to porch railings, from design inspiration to maintenance tips, and everything in between.