High-Quality Handrails and Guardrails With Professional Installation
We're your trusted specialists in handrails and guardrails, designing and installing durable, stylish solutions tailored to your needs. As a leading custom railings company, our reputation is built upon a commitment to providing superior products that adhere to the highest safety standards, all while enhancing the aesthetics of both commercial and residential spaces.
Our handrails and guardrails not only bring an added layer of safety to your property but also an element of design sophistication that elevates your space's overall appeal. Each product is the result of thorough planning, detailed design, and meticulous craftsmanship. The dedication we pour into every project has positioned us as a top choice for those seeking high-quality handrails and guardrails installation services.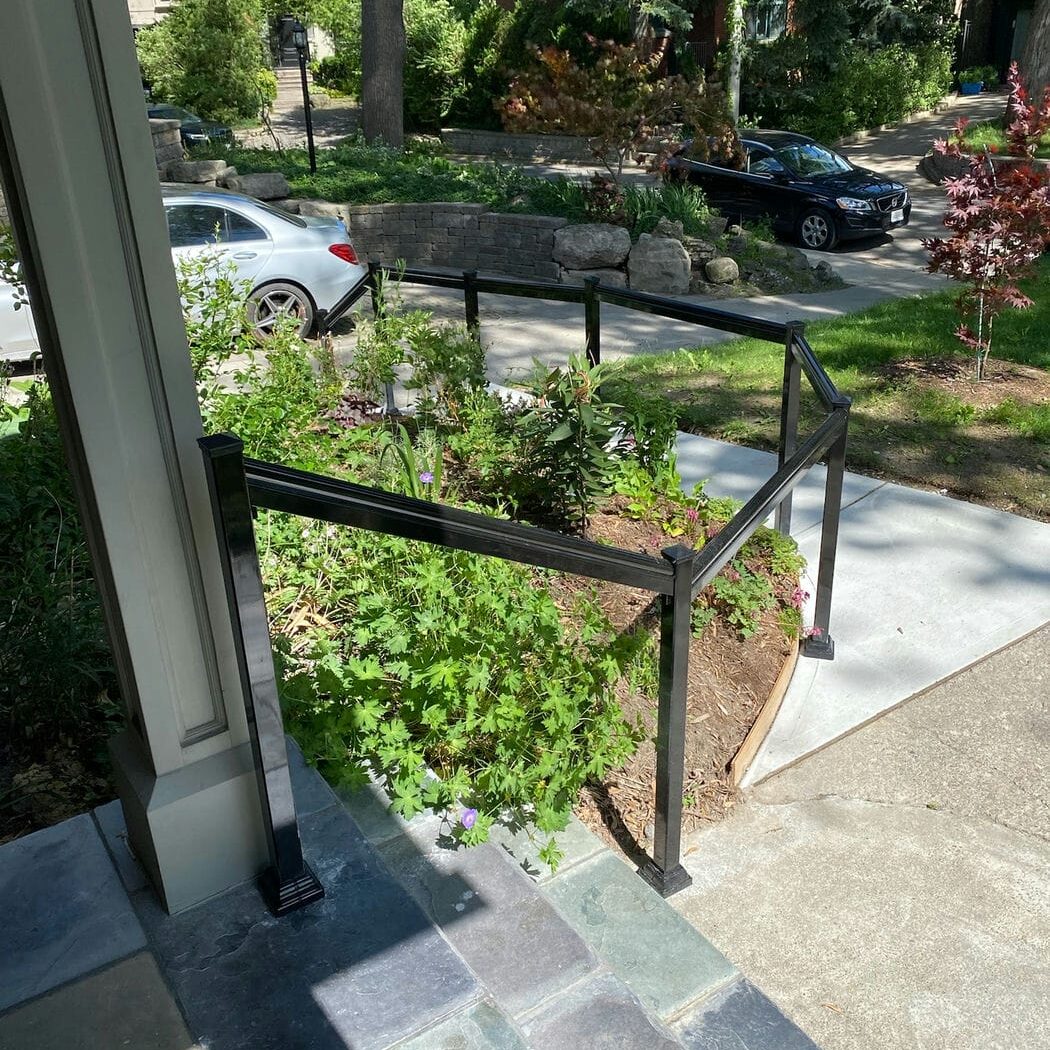 Recently Installed Handrails & Guardrails
Explore our wide array of completed handrails and guardrails projects at GTA Railings, where quality, design, and customer satisfaction take center stage. Our project gallery showcases a variety of materials, from chic aluminum and elegant stainless steel to timeless wood, all tailored to meet our clients' unique needs. Let our past work inspire you and instill confidence in choosing us for your custom railing needs. Remember, at GTA Railings, we're not just installing railings, we're crafting safety with style, one project at a time.
Style Options for Our Handrails & Guardrails
No matter the style you choose, GTA Railings ensures that your handrails and guardrails not only meet safety standards but also enhance your space, adding an element of design sophistication that is truly your own.
Square handrails and guardrails deliver a traditional look with a touch of modern appeal. Their symmetrical shape contributes to a neat, orderly appearance and offers a firm grip, making them a safe and stylish choice for any space.
Rectangle handrails and guardrails are popular for their sleek, contemporary design. Their broader surface area provides a comfortable hold, and their linear design lends itself well to a minimalist, modern aesthetic.
Round handrails and guardrails are timeless and versatile, fitting seamlessly into various design themes. Their curved shape offers an ergonomic grip, adding to their practicality and comfort while maintaining an aesthetic appeal.
Flat handrails and guardrails stand out with their unique, minimalist style. They offer a broad, flat surface that is comfortable to hold and their streamlined design is perfect for a modern, clean-line aesthetic.
Effortless Handrail and Guardrail Installation With Our Seemless Process
We understand that installing handrails and guardrails should be a seamless process that enhances your property without causing unnecessary disruption. That's why we've streamlined our approach to deliver a stress-free experience from the initial quote to the final installation.
Starting with a detailed, no-obligation quote, we take the time to understand your unique needs and aesthetic preferences. Our team of experts will guide you through the selection process, helping you choose the perfect handrails and guardrails that harmonize with your space while meeting safety standards.
Once you're satisfied with your choice, our skilled installation team takes over. Combining precision, expertise, and respect for your property, they ensure the installation process is smooth and efficient, causing minimal disruption to your day-to-day life.
Regardless of whether you're seeking custom railings or exploring our myriad of other services, GTA Railings emerges as a trusted partner. We offer a blend of excellent craftsmanship and stellar service, making us the top choice for your custom project.
We uphold the highest standards of professionalism, with all the necessary certifications and insurance to guarantee a risk-free service.
All of our products are crafted locally in Canada, supporting our national industry while ensuring superior quality and design.
Our seasoned presence in the industry enables us to deliver expert solutions tailored to your project's unique needs.
We leverage top-tier materials in our projects, ensuring that our products are not only appealing but also built to last.
Professional Installation
Our skilled team carries out each installation in strict accordance with the Ontario Building Code, preserving both the aesthetic and structural integrity of your space.
Our comprehensive warranty provides you the ultimate peace of mind—outstanding protection for materials and workmanship without any extra stress.
More Info Related to Handrails & Guardrails
Seeking the perfect Handrails and Guardrails for your property? Explore our blog for invaluable insights and guidance that could steer you towards making an informed decision.